As we all know, America has many Texas wind farms and massive installations of solar panels in California. However, the number one in
renewable energy
invest is China.
An annual Pew Charitable Trusts report, "Who's Winning the Clean Energy Race?", shows that China is the world leader in clean energy investment, with $54 billion in investments in renewable energy in 2013, well above total U.S. investment of $36.7 billion. "No other
clean energy market
in the world is operating at that scale," Phyllis Cuttino, director of Pew's clean energy program, said during a teleconference Thursday, referring to China.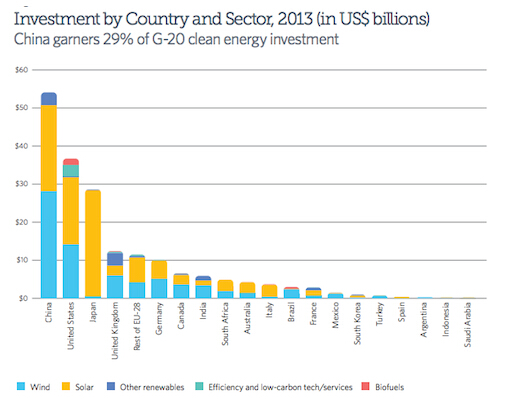 The Pew report says China's efforts to slash poverty, expand economic development and solve its air pollution problems have driven the country to invest heavily in clean energy.
Chinas energy landscape continues to give the clearest indication of the trends in industrial dynamics and prospects for the future. China is powering ahead with renewable energy while at the same time it expands its reliance on fossil fuels; the US by contrast is further locking in its dependence on fossil fuels. The distinction is critical.
Why does China badly need the renewable energy?
As China is the most populous country in the world, it is certainly influential when it comes to environmental and energy issues in China. With more cars on the road every year and increasing demands for power from individuals and industrial users alike, China is fast becoming the world's largest consumer of energy. In 2013, China's growth in oil consumption accounted for one-third of the world's oil consumption growth. In 2014, China will likely surpass the United States as the world's largest oil importer. China's dependence on imported oil, combined with its well-publicized air-pollution problem, gives the country two big reasons to reduce its dependence on fossil fuels. As a result, China soon recognizes its energy problem and is making big bets on renewable energy.
According to The Global Status Report, which was released earlier this month by the Renewable Energy Policy Network for the 21st Century, China once again led the rest of the world in renewable energy investment in 2013, spending a total of $56.3 billion on wind, solar and other renewable
projects
. The report stated that China accounted for 61 percent of the total investment in the renewable energy by developing countries, and that China invested more in renewable energy than all of Europe last year. China's renewable energy investment is part of its 12th Five-Year Plan for Economic and Social Development, which calls for the country to spend $473.1 billion on clean energy investments from 2011 to 2015. China's goal is to have 20 percent of its total energy demand sourced from renewable energy by 2020.
Biomass Energy in China
In the last five years, Bioenergy in China has achieved great progress. According to the 12th Five Year Plan (2011-2015) on Bioenergy, by the end of 2015, China's bioenergy production is estimated to exceed 50 million tons of standard coal. The plan has outlined the following targets: Biomass Electricity: 13 million kilowatts capacity,
Biogas Annual Utilization: 22 billion cubic meters,
Solid Biomass Fuel Annual Utilization: 10 million tons liquid
Biofuels Annual Utilization: 5 million tons.
Hereby, bioenergy investment is expected to increase to 140 billion RMB with 100 billion annual sales turnover. All above creates a new group of bioenergy companies with strong technical force and large scale, forms a relatively complete system of biomass energy industry. Therefore, sustainable development and utilization of bioenergy brings the extensive concern of the industry.
2013 China International Bioenergy and Biomass Utilization Summit (BBS 2013) successfully concluded In Ocean Hotel, Shanghai on Apr. 22nd-23rd, 2013. The previous BBS theme was 'The Power from Sun, The Road to Bioenergy', more than 350 elite from 150 well-known research institutions and enterprises at home and abroad took part in the BBS.
Biomass Energy Sources in China
The sources of biomass energy in China are various, mainly are crops and agricultural residuals, forest waste and residuals.
The area under crops, total production and theoretical storage capacity of straw and stalk in Shandong in 1995 are shown in the below table.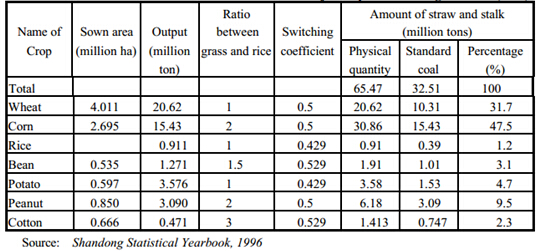 The straw and stalk of crops can be burned directly as a rural energy source. In the 1960s and 1970s, burning directly is the only way to make use of these straws and stalks. Unlike in the past, there is now a considerable surplus of straw and stalk. And considering the best way to take good advantages of them, they are made into pellets, as pellets have higher density and can offer more lasting energy.
The same are with other agricultural residuals and wastes, like cotton stalks, grass, bagasse, peanut shell and alfalfa, etc. They are all good sources of biomass energy, and they can be all made into
biomass pellets
to offer more energy. As for the forest wastes, they are easy to collect and more profitable. And in China, 300 million tons of forestry waste is annually available for fuel production.
China obviously has a large rural population with a significant amount of biomass waste that can be used to generate electricity in the rural communities, with the need for reliable and efficient sources of electricity. The rural communities with the largest source of biomass waste are going to be able to benefit highly from the development of biomass technology in China over the coming years and is a very important aspect of renewable energy development.